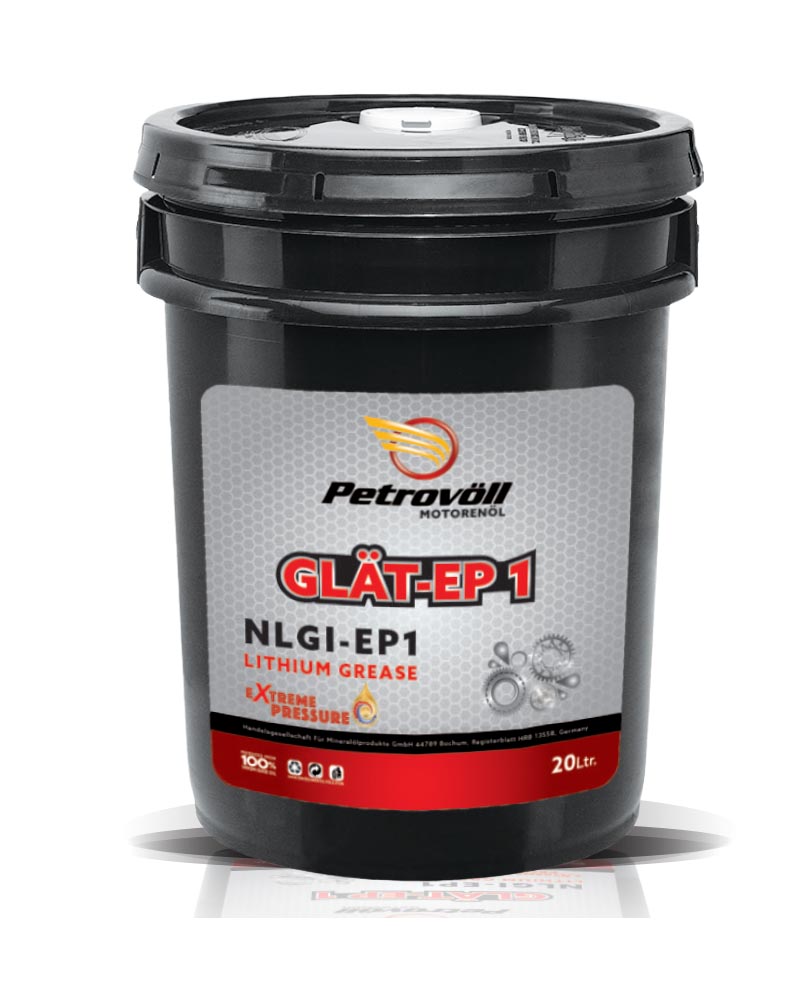 EXTREME PRESSURE LITHIUM GREASE
Petrovöll GLÄT EP is a friction-reducing lithium soap grease that contains oxidation, rust & corrosion inhibitors and provide excellent extreme pressure properties. It exhibits effective resistance to bleeding, superior resistance to water wash out and makes use of a load carrying additive system that contains no lead or metals that are environmentally undesirable.
APPLICATIONS
For lubrication of plain and rolling element bearings in normal to heavyduty industrial applications
Performs admirably in aqueous environments due to high resistance to entry of water
Its softer grades are particularly suitable for use in centralized lubrication systems and can be used for both automotive and industrial applications
Wide operating range of -30 to 120 °C
BENEFITS & ADVANTAGES
Offers excellent film thickness with outstanding resistance to oxidation
Excellent pressure absorption capacity
Good mechanical & thermal stability and maintains consistency
Exceptional corrosion protection and anti-rust properties
Wide operating temperature range with specifications of high temperature resistance
Very good resistance to water and excellent low temperature properties
Packs: 1L, 4L, 5L, 20L and 208L Drum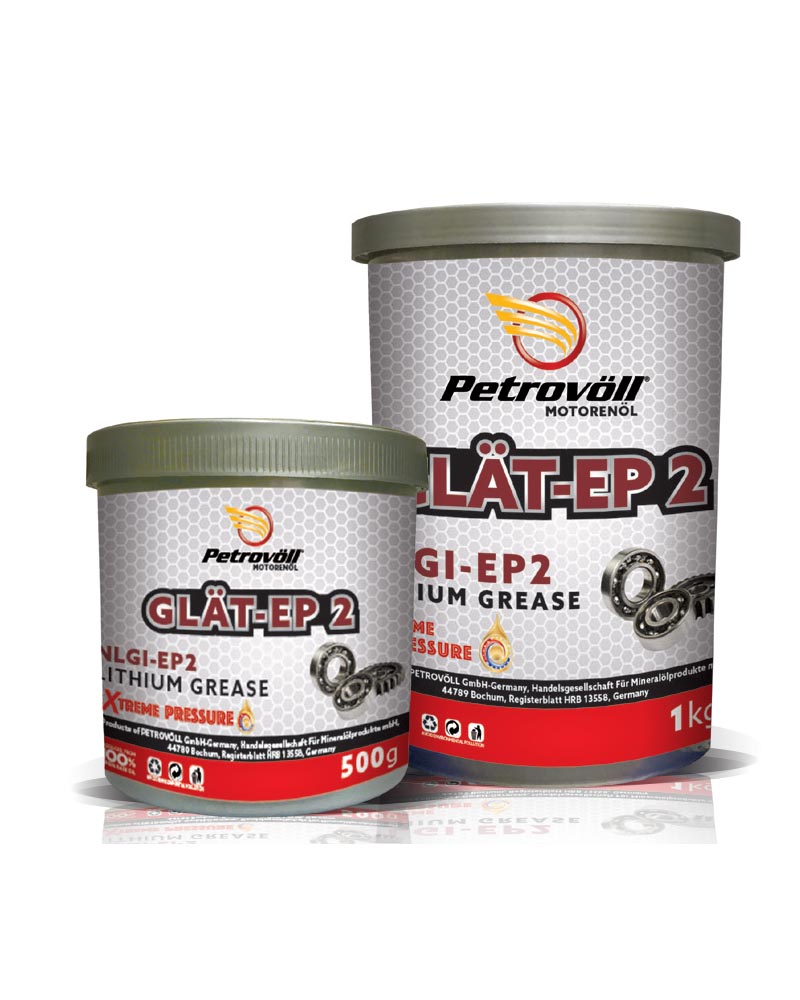 GLÄT
LITHIUM COMPLEX GREASE
Petrovöll GLÄT EP Lithium Complex is a premium lithium complex grease formulated with a high dropping point to ensure retention where high temperatures are encountered. It is blended with a special additive package, which provides high film strength and extreme pressure (EP) & anti-wear properties. Its high quality virgin base oil provides excellent natural oxidation inhibition, which when combined with effective antioxidants as well as corrosion inhibitors; provide extra stability under storage and extreme service conditions.
APPLICATIONS
Recommended for severe applications where good high temperature and anti-leakage properties are required and for construction & mining equipment, paper and steel mills and other heavy-duty applications
Designed to resist water wash out, water ingress, corrosive environments, shocks and vibrations
Effective temperature range from -15°C to 160°C
Suitable for heavy load bearing
Offers excellent film thickness
BENEFITS & ADVANTAGES
Good mechanical & thermal stability and maintains consistency
Extended intervals between re-lubrication due to long product life even under severe operating conditions
Wide operating temperature range
Excellent resistance to water wash out and contamination
Packs: 1L, 4L, 5L, 20L and 208L Drum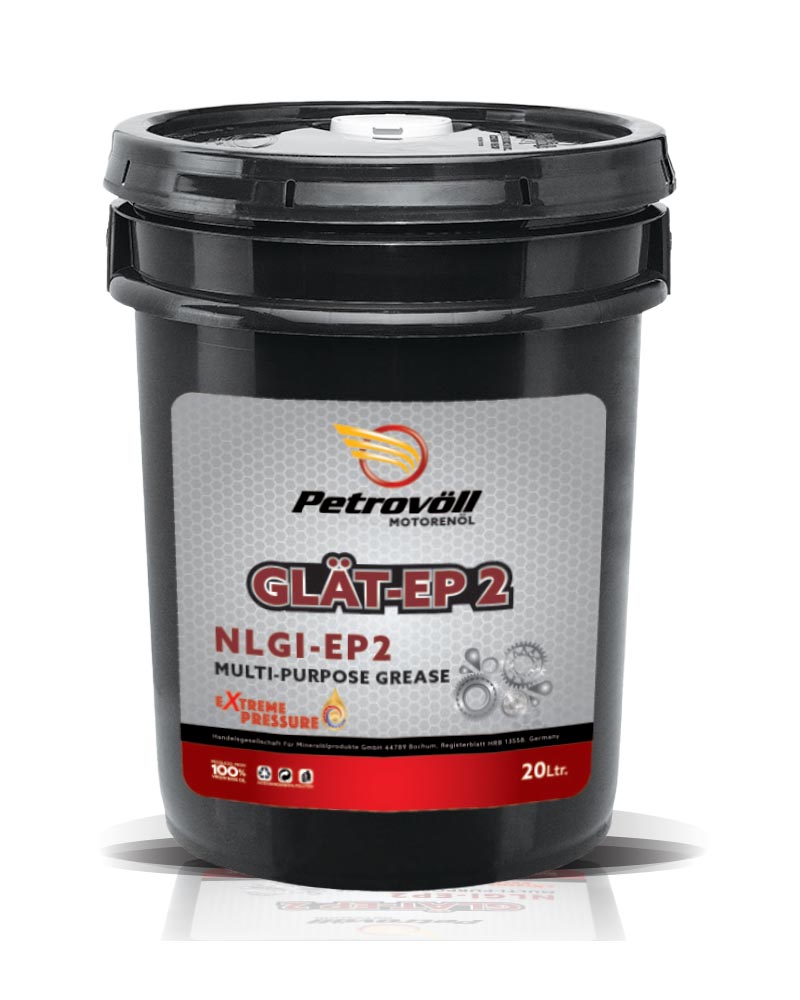 GLÄT
MULTI PURPOSE GREASE, CALCIUM BASE
Petrovöll GLÄT Multi-Purpose Grease is a calcium-thickened generalpurpose grease formulated to provide excellent lubrication and protection from wear. Based on best calcium chemistry, it is the finest grease with antirust and corrosion inhibiting additives. Its wide range of applications includes use on automotive wheel bearings where it can operate at extremely high temperature. It also offers exceptional performance at high temperature while maintaining excellent structural integrity & adhesion and is also resistant to ingress from water.
APPLICATIONS
Exceptional performance in applications operating at high temperatures and pressure
Performs admirably in aqueous environments due to high resistance to entry of water
Optimum protection for axles, bearings and rings
Offers excellent film thickness
BENEFITS & ADVANTAGES
Very good flow ability with wear protection properties
Good resistance to oxidation
Increased pressure absorption capacity
Good corrosion protection and resistance to water
Packs: 1L, 4L, 5L, 20L and 208L Drum