While Petrovöll's main R&D site is located in Bochum, Germany, the company also owns and operates a state-of-the-art production and blending plant, which has a capacity of 50,000 MT/pa, within the Abu Dhabi Industrial Zone in the UAE. Within these sites, the company strives to do everything possible to remain true to its vision of creating only the highest quality products that meet or even exceed the world's strictest requirements and API standards.
Petrovöll utilizes only the latest technologies and is equipped with a fully automated blending system made in Germany. Advanced logistics also provide the company's production team with unlimited growth opportunities. These advantages allow Petrovöll to deliver only the best quality products, achieve full customer satisfaction and remain committed to achieving full compliance in all aspects of the business.
BLENDING AND FILLING FACILITY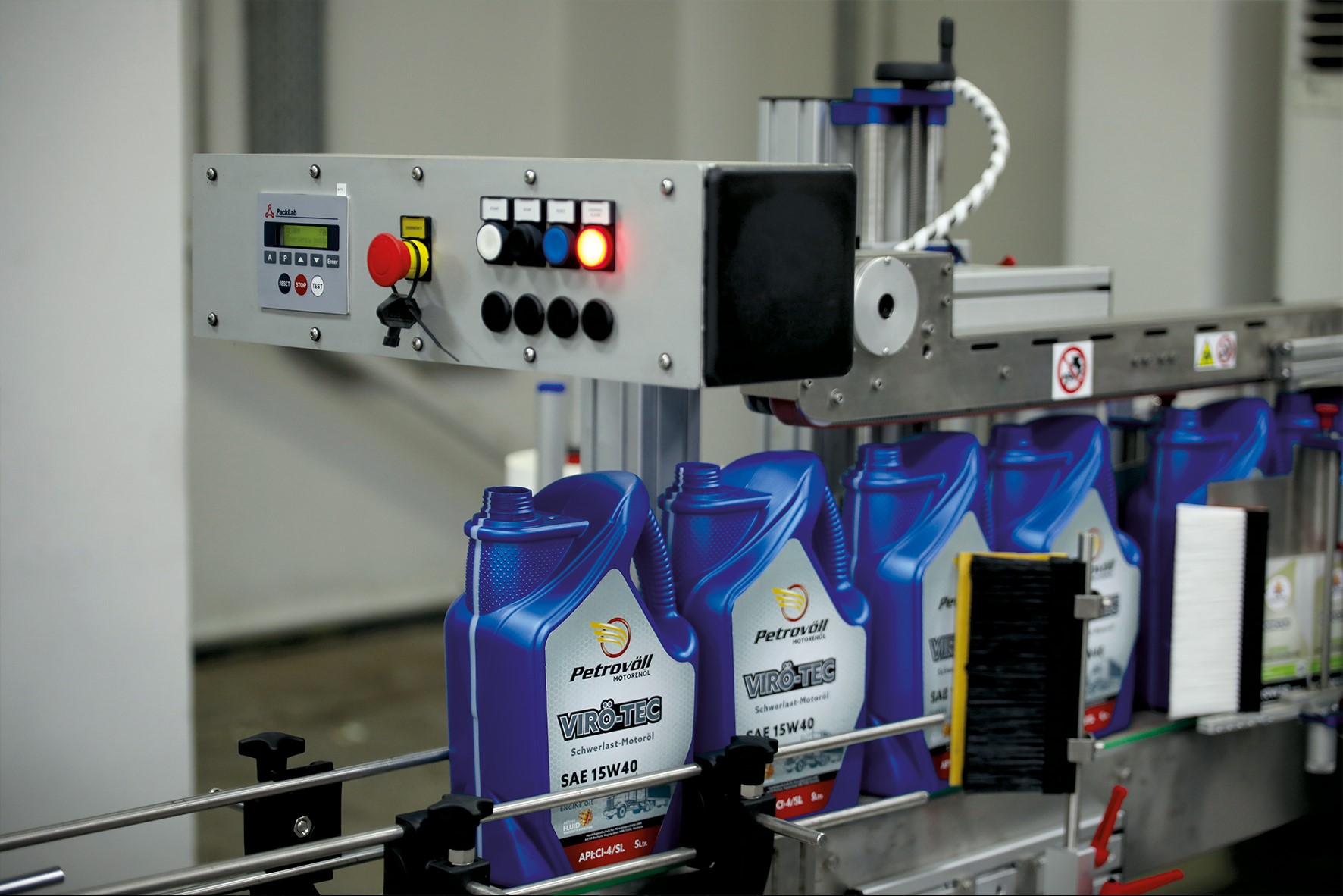 Blending & Filling Capacity
6,000 MT total Base Oil storage capacity
100 MT lubricants blending per day. (1 working shift)
50,000 annual blending capacity
Fully automated blending process
4 fully automated filling lines:

4 x Fully automated filling lines for 1L, 4L, and 5L bottles capacity of 3000-6000 bhp.
4 x semi automatic drum, IBC and Flexi tank filling lines.

Ability to deliver in multiple packs
Equipped with special agitators for viscose media and heating system, provided by ViscoJet, Germany.
All tanks are tested and Certified in accordance with API 650, ASTM A36 by TÜV SÜD Germany.
Thermic oil heating boiler system supplied by Alitaliya. 1162 Kw
Base Oil Offloading pumps x 6. Supplied by Netzsch/Germany 8KW, 70m3/h with Multi Bag Filters 10 bar.
Base Oil Feeding pump x 6. Supplied by Vikings/USA, 22kw, 70m3/h with Multi Bag Filters 10 bar.
Additive offloading pumps x 5. Supplied by Vikings/USA, 11Kw, 45m3/h
Additive feeding pumps x 5. Supplied by Bradford/UK 7.5Kw, 25m3/h
Fully automated SCADA system based on Siemens S7/Germany with central process visualization provided by Siemens WinCC, commissioned by Rienhoff/Germany
240 electronic sensors installed
120 Tons fully automated weight bridge, to monitor & control product weight at both entry & exit points of the production facility.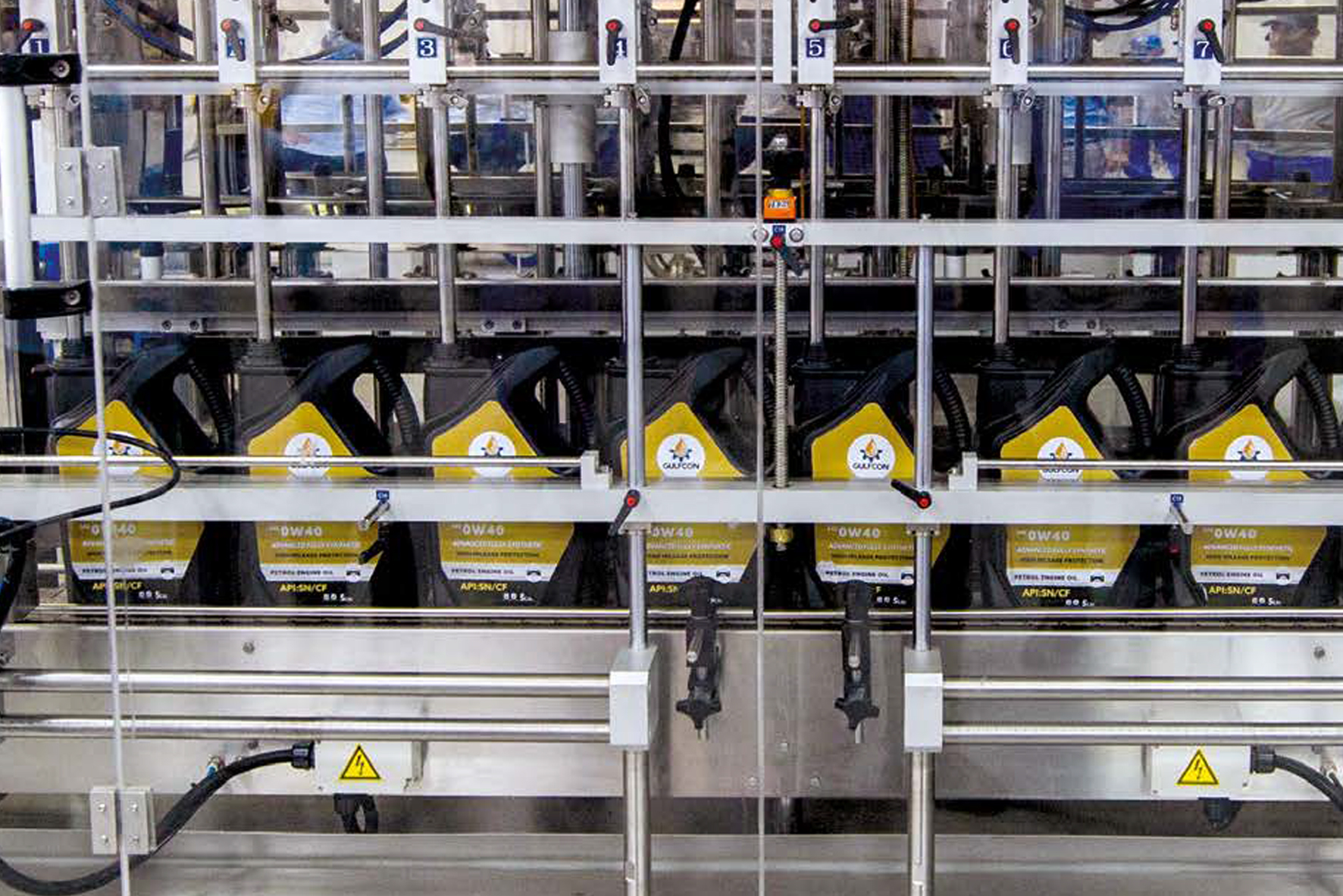 QUALITY CONTROL
We are dedicated to maintaining the quality in the manufacture and supply of all of our probiotic formulations and are totally committed to the principles and application of Quality Assurance and Quality Management Systems.
By ensuring we have the facilities, procedures, quality systems and suitably trained and qualified personnel to carry out the manufacture of our products, we are able to meet customer requirements and control product performance, dispatch and transport, technical and sales support and all aspects of administration.
All Petrovöll products manufactured in our facilities are subject to our stringent quality control procedures and we guarantee that the products manufactured will be of the highest quality.
We strictly maintain that all raw materials used in our products come from quality assured and approved international certified suppliers, and implement systems, which are designed to conform to OEM'S Quality Standards.
Quality control is implemented and maintained by our own in-house team at our well-equipped laboratory, which carry out the analysis of raw material and finished products. After which, Production Certificates of Analysis are kept for every batch of products and are made available on request. Independent laboratories may also be called upon to back our testing operations as required in some testing cases.
We strictly maintain fully documented Quality Assurance, MSDS Material Safety Data Sheet, Data Sheets – Technical Specifications and HACCP (Hazard Analysis and Critical Control Points), which form the basis of all our procedures and operations.