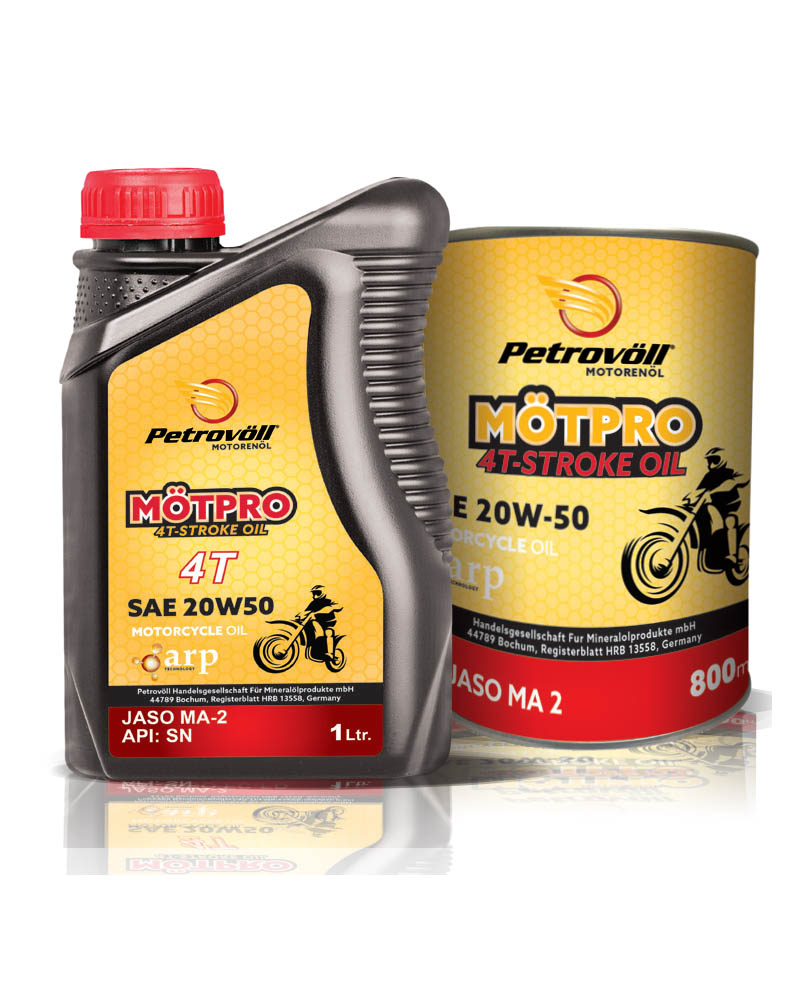 4-STROKE MOTORCYCLE OIL
Petrovöll MÖTPRO 4T Motorcycle Oil is a high-performance motor oil with optimised temperature-viscosity characteristics. Developed especially for modern petrol-driven and/or diesel car engines, it provides optimum protection for engines requiring multi-grade oil and is manufactured on the basis of fully synthetic PAO's (poly-alpha olefins) with an optimized viscosity range. The optimum balance of its base oils and additives, developed specifically for this application, result in the outstanding performance level of this motor oil.
MÖTPRO is ideal for 4-stroke scooters with a shared oil circulation system for the engine, clutch and gears. It provides a stable lubricating film under difficult conditions such as short-haul operations or under permanent load conditions at full throttle with high speeds. It guarantees low wear to the engine and gearbox component parts and also meets the stringent friction coefficient requirements of JASO MA-2 for best clutch performance.
PERFORMANCE LEVEL
API SN, ACEA A5/B5-04, MB 229.1,229.3, Porsche Approved C20, VW 502.00,505.00, BMW Long-life Oil, Peugeot-Citroen, Ferrari
BENEFITS & ADVANTAGES
Provides a high level of oxidation protection
Delivers excellent clutch performance
Offers outstanding protection against wear and corrosion
Ensures superior high speed engine protection to help extend engine life
Provides protection against thermal and mechanical breakdown
Delivers excellent gear shift quality
Ensures excellent wet clutch performance
Provides extreme protection at high temperatures
Packs: 1L, 4L, 5L, 20L and 208L Drum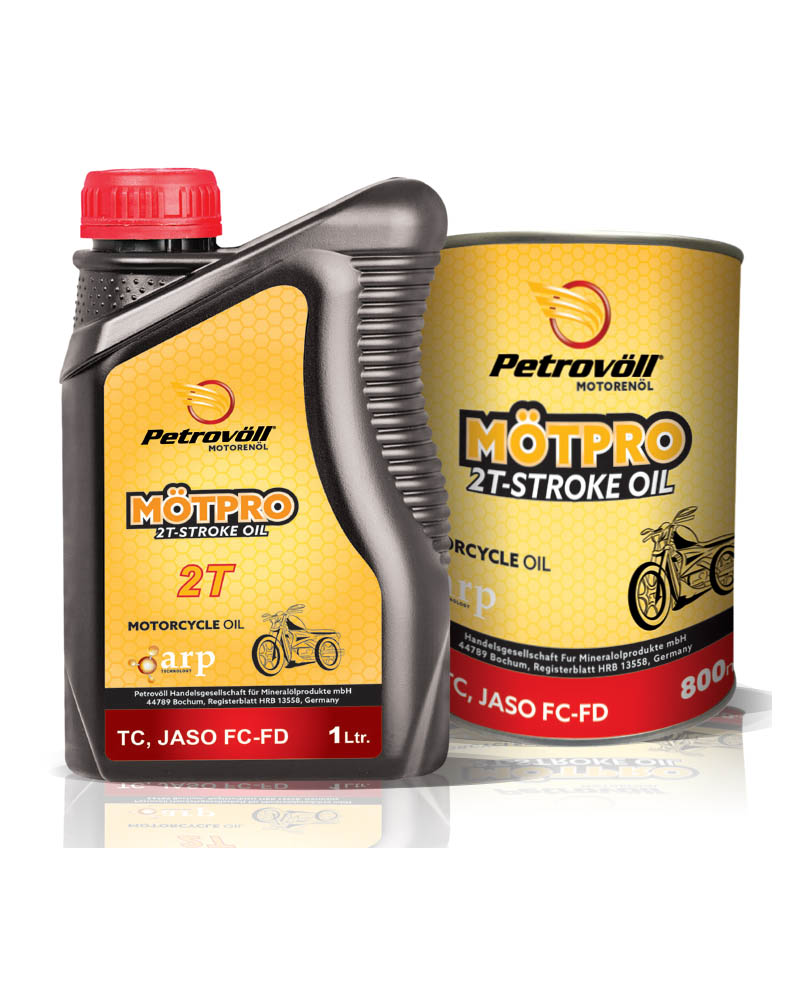 2-STROKE MOTORCYCLE OIL
Petrovöll MÖTPRO 2T Motorcycle Oil is a mineral-based engine oil for air-cooled and water-cooled 2-stroke engines. It can be used for multi-functional purposes and is suitable for both separate and mixed lubrication systems.
MÖTPRO 2T's superior quality formulation is non-ash forming, economical and is specifically developed for small to medium size aircooled two-stroke engines used in motorcycles, outboard engines and scooters. It provides excellent miscibility and fluidity characteristics and makes use of a low ash additive system, which offers protection against scuffing of piston rings and liner wear by minimizing piston ring deposits.
PERFORMANCE LEVEL
Meets and exceeds the requirements for: API TC, JASO FB, JASO FC, JASO FD, ISO-L-EGD Level
BENEFITS & ADVANTAGES
Suits both separate and mixed lubrication systems
Offers very good anticorrosion, antirust and anti-wear properties
Reduces smoke exhaust emissions
Reduces deposits on piston rings and outlet ports
Suits three-wheelers and other utility vehicles powered by a two-stroke engine
Provides effective lubrication at varying speeds
Ensures longer spark plug & engine life
Maintains optimum viscosity at different temperatures
Self mixing with leaded & unleaded petrol
Packs: 1L, 4L, 5L, 20L and 208L Drum